Italian occupation 101
Today, 26 of October coincides with the anniversary of what the Libyans call the Black Day', on this day in 1911 the Italian fascist invaders shipped thousands of Libyan men, women and children to some small and remote Italian islands. No one knows anything about their fate! Up to this very day, the Italian authorities have refused to furnish the full list of these Libyan victims to the Government and People of Libya. Libya holds an annual Day of Mourning.
So I think it is time for a little history lesson and a reply to another of your questions:
17. How would you describe Libya's relationship with Italy? From my point-of-view, it looks like it's quite sound. Can I assume that Italy's colonial past was less abhorrent than that of many other colonizing countries?
All occupation is abhorrent and the Italian one was not an exception: almost one million Libyans died during the Italian occupation from 1911 to 1944!
Like most of the peoples of the Third World, the Libyans have suffered, and are still suffering, great injustices from the Western powers. The history of the Libyan people is a history of blood, tears and broken bones. The people of Libya have been terrorised and victimised for many decades by the various European powers. With the tacit approval of the British and French governments, Italy declared war on Libya on September 12, 1911, under the excuse that the Ottoman Turks — who were then ruling Libya were subject to insults and maltreatment for which they were in danger! On September 17, 1911, the Italians invaded Tripoli and Benghazi. The Italians expected that their invasion of Libya would be easily accomplished. But, to their horror, their aggression was courageously and strongly resisted by the Libyan people. For 20 terrible years Arab Libyan resistance fighters and guerrillas fought against Italian fascists with sweat and blood. The courage of the Libyan martyrs was epitomised by a very old man Sheikh Omar al Mukhtar. A true hero.
Omar Mukhtar upon his capture in September 1931.
Highlander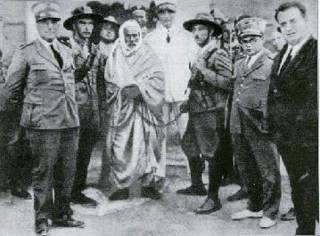 Omar Mukhtar, the 'fierce and frightening warrior on his way to the gallows'. notice the chains and the escort- what does it remind you of?
Highlander
The Italian aggression and terrorism against Libya was extremely brutal. Thousands of innocent men, women and children were killed. Their homes were burnt down, their crops destroyed, their wells filled with cement, and copies of their Koran stepped upon. Many women were raped. Thousands of other Libyans were detained in concentration camps in the hot desert. Their properties were confiscated. Others perished under the most repressive conditions. Furthermore, the Italians, had laid about 170,000 landmines all over the country. These landmines have killed and are continuing to kill and maim many Libyans. Italy has refused to furnish maps showing where these landmines were laid. When Benito Mussolini, the Italian fascist dictator, was carrying on his terrorism against the Libyan people, he was highly praised by British, French and American politicians, business leaders and the press.
*For instance, on a visit to Mussolini in 1927, Winston Churchill told journalists that Italian fascism "has rendered a service to the whole world."
'Inarguably, throughout the whole of the 1920s, Mussolini was an enormously popular man in Italy and abroad, with all except perhaps the most inveterate leftists. An American writer puts it as follows:
Postwar [First World War] Italy ... was a sewer of corruption and degeneracy. In this quagmire Fascism appeared like a gust of fresh air, a tempest-like purgation of all that was defiled, leveled, fetid. Based on the invigorating instincts of nationalist idealism, Fascism "was the opposite of wild ideas, of lawlessness, of injustice, of cowardice, of treason, of crime, of class warfare, of special privilege; and it represented square-dealing, patriotism and common sense." As for Mussolini, "there has never been a word uttered against his absolute sincerity and honesty. Whatever the cause on which he embarked, he proved to be a natural-born leader and a gluttonous worker." Under Mussolini's dynamic leadership, the brave Blackshirts made short shrift of the radicals, restored the rights of property, and purged the country of self-seeking politicians who thrive on corruption endemic to mass democracy." [30]If the Italian Duce was so popular in the 1920s that he received the accolades of the Saturday Evening Post [31] and the American Legion [32], and the highest praises of British and American establishment figures such as Winston Churchill [33] and Ambassador Richard Washburn Child, [34]

[30] John P. Diggins, Mussolini and Fascism: The View from America (Princeton, NJ: Princeton University Press, 1972), p. 17. Diggins' quotations in the cited paragraph come from the writings of an American Mussolini enthusiast of the 1920s, Kenneth L. Roberts.
[31] Ibid., p. 27.
[32] Ibid., p. 206. Mussolini was officially invited to attend the San Francisco Legion Convention of 1923 (he declined) and some years later was made an honorary member of the American Legion by a delegation of Legionnaires visiting Rome. The Duce received the delegation in his palace and was awarded a membership badge by the delighted American visitors.
[33] In an interview published in the London Times, January 21, 1927, immediately after a visit by Churchill to Mussolini, the future British Prime Minister said: "If I had been an Italian I am sure that I should have been wholeheartedly with you [Mussolini] from start to finish in your triumphant struggle against the bestial appetites and passions of Leninism." See Luigi Villari, Italian Foreign Policy Under Mussolini (New York: The Devin-Adair Company, 1956), p. 43.
[34] The United States Ambassador to Italy in the '20s, Child dubbed Mussolini "the Spartan genius," ghostwrote an "autobiography" of Mussolini for publication in America, and perpetually extolled the Italian leader in the most extravagant terms. Diggins, p. 27.

*In 1933 American President Franklin Roosevelt himself termed Mussolini "that admirable Italian gentleman."


Libya's relationship with Italy has been and is very cordial though. Libyans love to go to Italy. But the Italians have been smarter ex-colonialists than other countries and that is why they are less resented nowadays. In the 80s and 90s, Libyan leader Muammar Gaddafi repeatedly demanded reparations from Italy for the colonial period:

" Italy perpetrated historical crimes against the peaceful Libyan Arab people, the people who did not know Italy, and who did not harbour any ill will against Italy. It was Italy that surprised the Libyans with its fleets and cannons, and attacked the Libyans in their homes, set up the gallows, killed thousands of martyrs, and acted unjustly and most aggressively.

"An invasion without justification, and sacrifices without reason... It is impossible that we forget 35 years of colonization, and it is impossible that we forget them, and we will never forget 700,000 martyrs... and those who were executed because they defended Libya."

Italy replied that it had settled all obligations in a payment worth $6.7m in 1956. And in 1998, the Italian and Libyan governments signed an agreement ending the conflict [the Italy-Libya statement]. Italy apologised for deporting unknown thousands of Libyans to barren islands in southern Italy, where many died from disease, famine and bad weather.

It is worth mentioning that Italy imports oil and natural gas from Libya.

This was the list of Libyan demands:

a-Italy should acknowledge its historical crimes against the people of Libya
b-Furnish all details about the thousands of Libyans forcibly exiled onto some Italian islands
c-Furnish maps showing where thousands of Italian landmines were laid in Libya
d-Pay full compensation to the families of all victims of Italian terrorism
e-Return all historical treasures and artifacts stolen from Libya