Highlander in the British countryside & at Buckingham palace
Last Friday I decided to take up a friend's invitation and visit their family in the English countryside for an Easter experience. I must say it was very enjoyable as the weather was warm and sunny for a few days and yours truly had wonderful walks and fresh air galore. Witness these grubby boots
What could be more fun than great company, delicious food, gorgeous weather, and exciting conversation with old friends and interesting ones with their kids? My favourite part of the whole trip was guess what? Watching the Harry Potter DVDs with the kids. That was awesome, as funnily enough I never had time for that before; now I'm a Potter fan, and can hardly wait for the next release. It got colder by Sunday but hey, we had all the Easter chocolate eggs to eat and it was nice to watch the kids searching for their eggs in the garden and the house. Running around with the huge family dog and the bunny pets was an absolutely invigorating time plus a chance to shed a few of the pounds acquired with all those chocolates. Isn't that pastoral scene enchanting ?
By Tuesday I was in London, I took this opportunity to brush up on my tourism. On top of my list was the British Museum, I only managed to visit half of it in one day.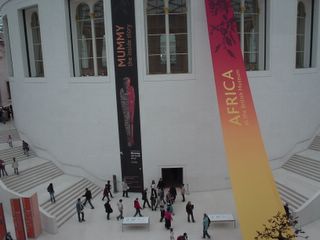 Of course we begun our trip with the Egyptian section (yes the mummies). Since we went there with no plans and no idea what to do it was an adventure to just stroll from room to room with no specific chronology. My favourite objects were the gold chunky jewelry and especially the Celtic and near- east ones. Both reminded me so much of Libyan traditional jewelry. I think I'll visit the second half another time. I spent a lot of time in the city, and have fallen in love with London, probably because I have not seen its seedier places but hey who needs to see that? I'll just enjoy the good stuff, so I finally got to see Buckingham Palace,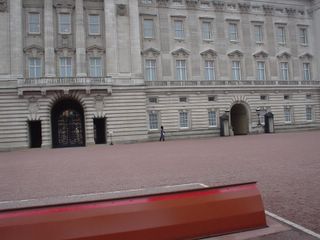 the House of Parliament, Saint James Park, 10 downing street (was hoping for a glimpse of Tony Blair),Big Ben & Westminster Abbey where many people were praying for the Pope.
I walked from there to London Eye and the Aquarium and we had waffles with chocolate at a cute little stall.
And kept walking on Queensway till the Millenium Bridge, ok by then I was dead tired as we'd been on our feet for 6 hours and still had to walk back home. I've decided to take London in small portions whenever I happen to visit here. Interestingly while I was there, I passed by Zimbabwe House yesterday and was able to capture these pre-election activists.
Also I enjoyed these protest placards opposite the House of Parliament.
My favourite being this one :)NO COMMENT
But the following is my masterpiece I think I may even get a prize for thise photo shoot don't you think ? I loved it..
This was my 'fun' week in brief. I'm rested, my mind is clearer and hopefuly ready to post about more serious stuff, next stop will be the
Bulgarian nurses case
. Keep tuned.
PS note to Alan ;) yes eventually I'll come to Scotland too !